Petaluma's Creative Reopening Parklet Project
Petaluma Parklets Transform Curbside Seating
When the pandemic shutdown Petaluma's restaurants, those with no dedicated outdoor space wondered what to do.

The city quickly launched its "Free Range" program, allowing restaurants to take over public spaces like side walks and parking spots as long as Americans with Disabilities Act rules are followed. Around town, bright orange barriers popped up seemingly overnight — sectioning off little eating areas with at least 6-feet of space between tables. When the wet weather set in, the city worked with many of the restaurnts to get them weatherized with a budget of over $250,000

for tents to keep parklet diners dry.

An opportunity arose ro apply for The Creative Sonoma Reopening Grant, a division of Sonoma County's Ecconomic Development Board. The Petaluma Downtown Association applied for the grant and partnered with the Petaluma Arts Center to identify the downtown locations and apply for the $30,000 grant and to work with local artists to create four artistic parklets that would support 6 local businesses. Changing their no-frills tables-on-sidewalks experience to inviting four parklike spaces, called parklets, enhanced with artistic flair. The beautification is a result of extensive collaboration between non-profits, the County, the City, artists and local businesses.

"The response from the community to being able to enjoy outdoor dining again has been incredibly enthusiastic creating the parklets has been a way to engage artists in the reopening process. This is a hugely collaborative project, and we are very grateful to PAC board president Drake Cunningham and PAC board member Cinda Gilliland owner of reedgilliand for their ongoing pro bono work providing design, and project management in taking the parklets from vision to reality.
Customers are already enjoying the new ambiance that the parklet provides at Stockhome Restaurant and its Western Street neighbor, the Bagel Mill. Designed and fabricated by artists Nicki Adani and Zoe Frey, the wood and steel structures that partition the dining area from the street give an industrial chic vibe to the space. Materials were donated by Friedman's Home Improvement and structural design support from Summit Engineering Company.
The next parklet in the final planning stages is Mi Pueblo El Centro on Kentucky Street. Petaluma native and business owner Kevin Clark, known for his dramatic and majestic Burning Man sculptures, is designing the Mi Pueblo parklet as well as the one in front of his full-service hair salon The Shop Petaluma, also on Kentucky Street.
The fourth parklet making its way through the City's approval process will be installed at Ray's Deli and next-door neighbor Fassbinder Gallery on Western Avenue. Painter and sculptor Eli Slaydon, known for numerous large-scale installations in New York, is designing and installing the parklet.

Petaluma Parklet Sponsors - Thank you!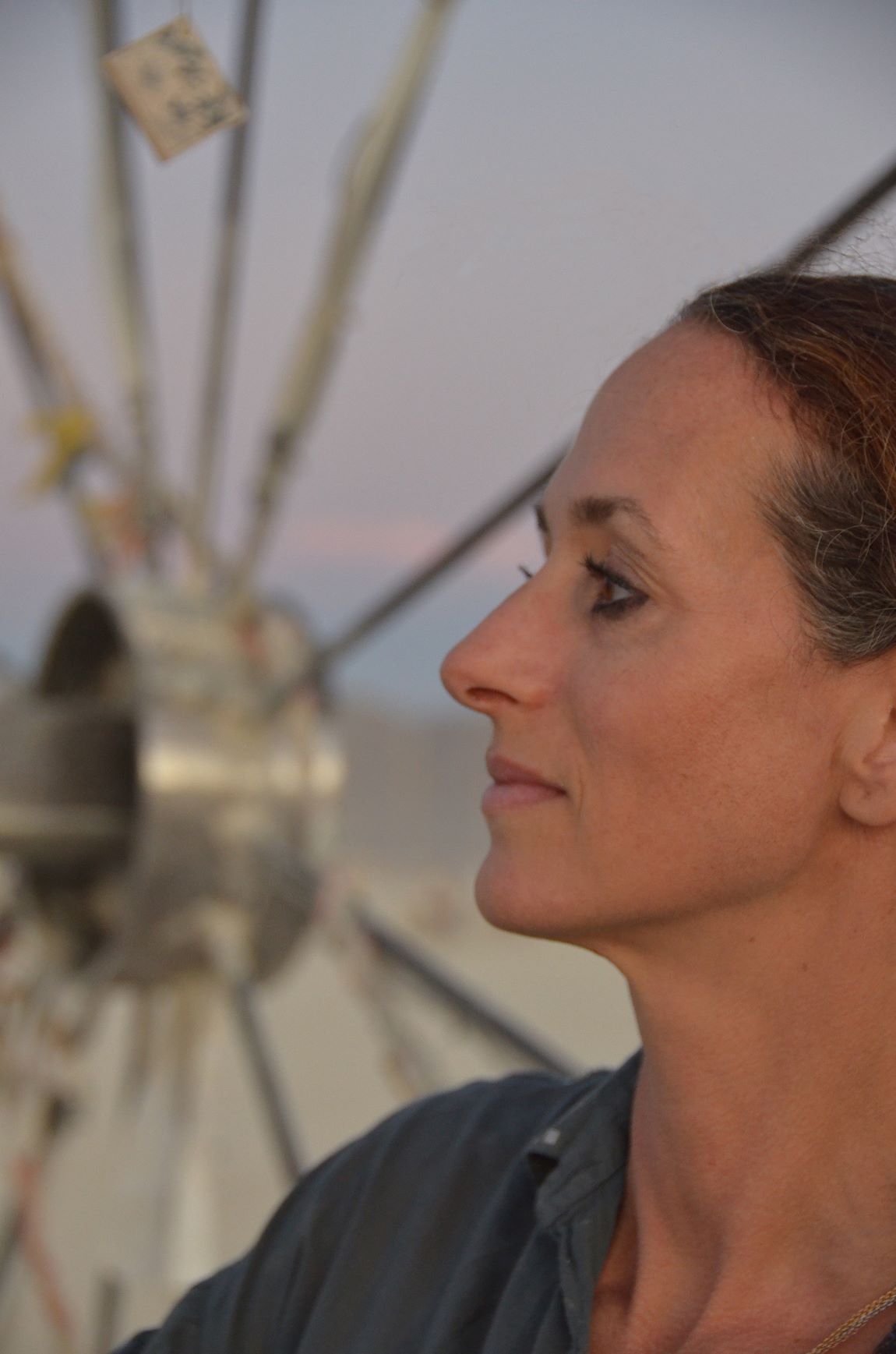 Parklet One: Stockholm Restaurant and the Bagel Mill Western Avenue Petaluma - This project is completed.
Artist: Nicki Adani is a Bay Area sculptor, designer and painter. Born in Munich, Germany, she studied fashion design at the French Design Sc, followed by ceramics, sculpting work, and found her passion in building in wood and steal, relishing the opportunity to mold and cohool ESMOD, and has been working as a designer in Europe, NY and CA for 25 years. In 2016 she began studying sculpturenfigure materials that at first seemed unyielding to create art pieces that offer viewers an inspiring experience.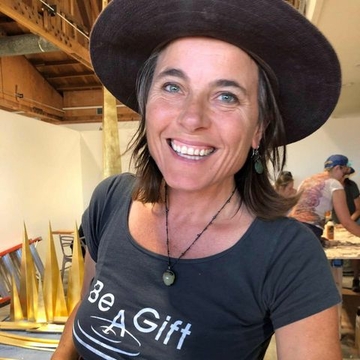 Artist: Zoe Fry is the founder of The Introverts Collective: A group of artists committed to exploring the intersection of Art, Consciousness, and Social Activism. In the last few years she has discovered she loves conducting teams to create big visions, creating containers and canvases for others, all while tackling social issues. The Ovule Project, presently at The Petaluma Art Center, in Petaluma, CA is an exploration of the feminine identity. Hearts of Gratitude Global Art Project was a response to pandemic fear, and her present project, Perspectives, three free standing doors, educated about systematic racism in Southern Marin while creating a space for Black and Brown bodies in a predominantly white space. As a seed grant recipient from the Rex Foundation, the Introverts Collective plans to bring Perspectives to Marin City, Point Reyes Station, and beyond.
Parklet Two & Three: Mi Pueblo El Centro & The Shop Petaluma
- This project is still pending and in the final planning stage with the City of Petaluma.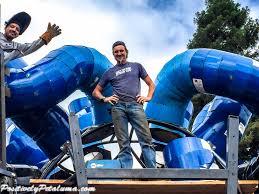 Artist: Kevin Clark grew up in Petaluma, California and studied art and business at Sonoma State University. After trying his hand at sales in the family business for a few years Kevin realized that art was his true passion, so for the last 20 years Kevin has been designing and building restaurants and bars in the Bay Area as well as large scale, metal, interactive sculptures for Burning Man and other music and art festivals, like Rivertown Revival.

Most of Kevin's work incorporates the element of fire in them which only adds to the drama of their majestic size and beauty. With his brother Dustin, Kevin also owns three full-service hair salons which he has designed and built, all of which contain more of his wonderful sculptures.

Proposed Parklet at Mi Pueblo El Centro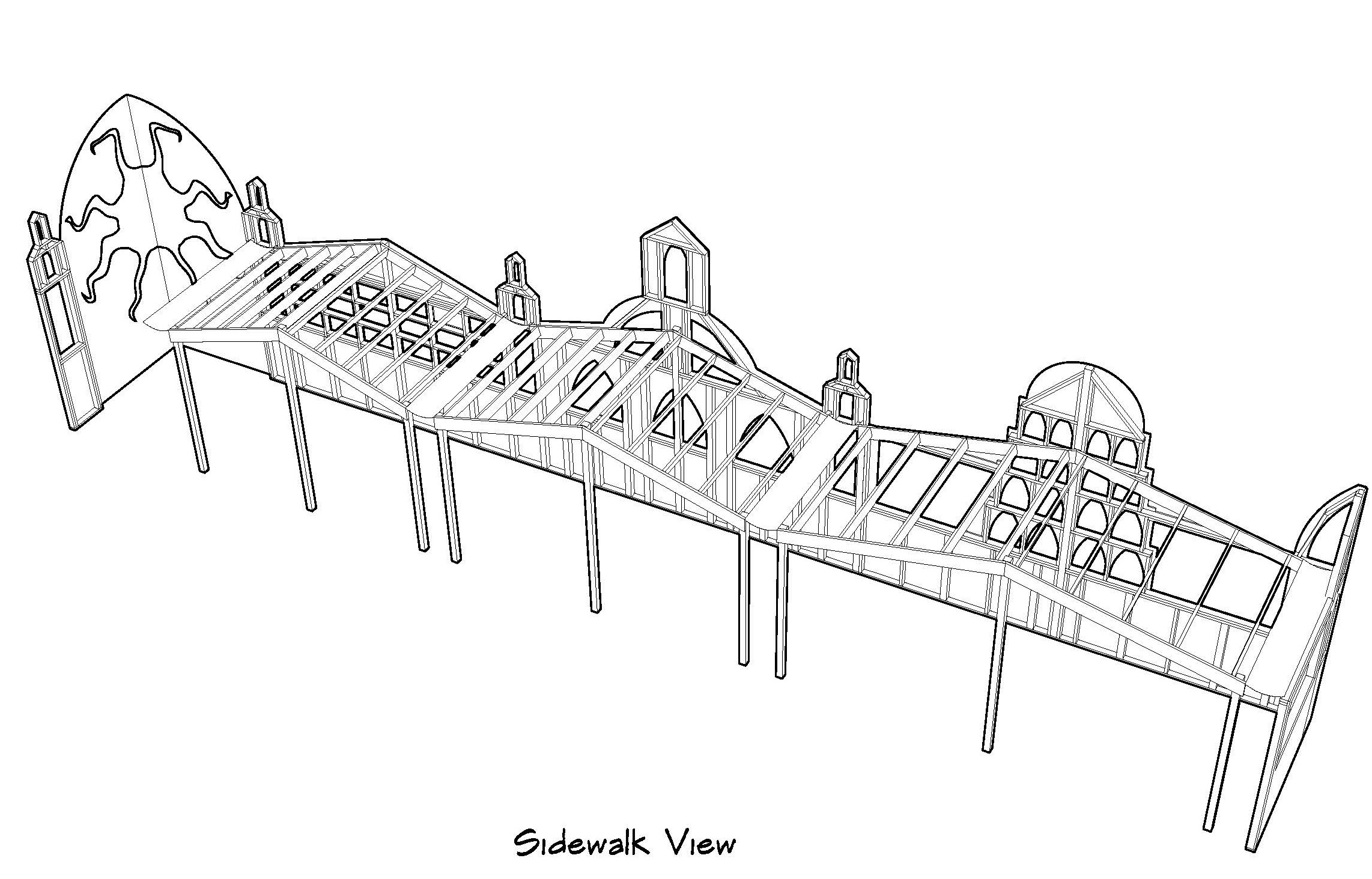 Parklet Four: Ray's Deli & Fastbinder Gallery Western Avenue Petaluma - This project is in the approval process with the city.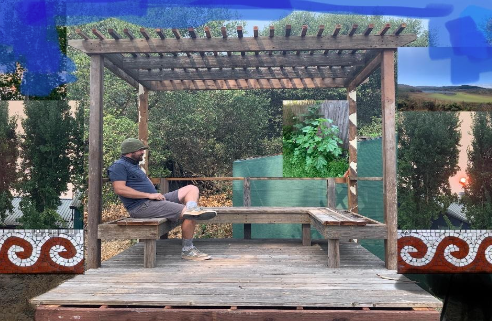 Artist: Eli Slaydon is a Petaluma resident, a painter and a sculptor with diverse knowledge of the trades and a social background in the art world. He has been a freelance art installation builder for the past 4 years for a variety of projects including: Installation and Prep for Shirley Fitterman Art Center at the World Trade Center, building and installing large scale sculpture for Nari Ward at Socrates Sculpture Park in Long Island City and the Gallery installation and art handling for organizations like the Paul Kasmin Gallery and Alba, New York.