The Petaluma Fall Antique Faire
Sunday, September 25th, 2022
8 am- 4 pm

Application available soon!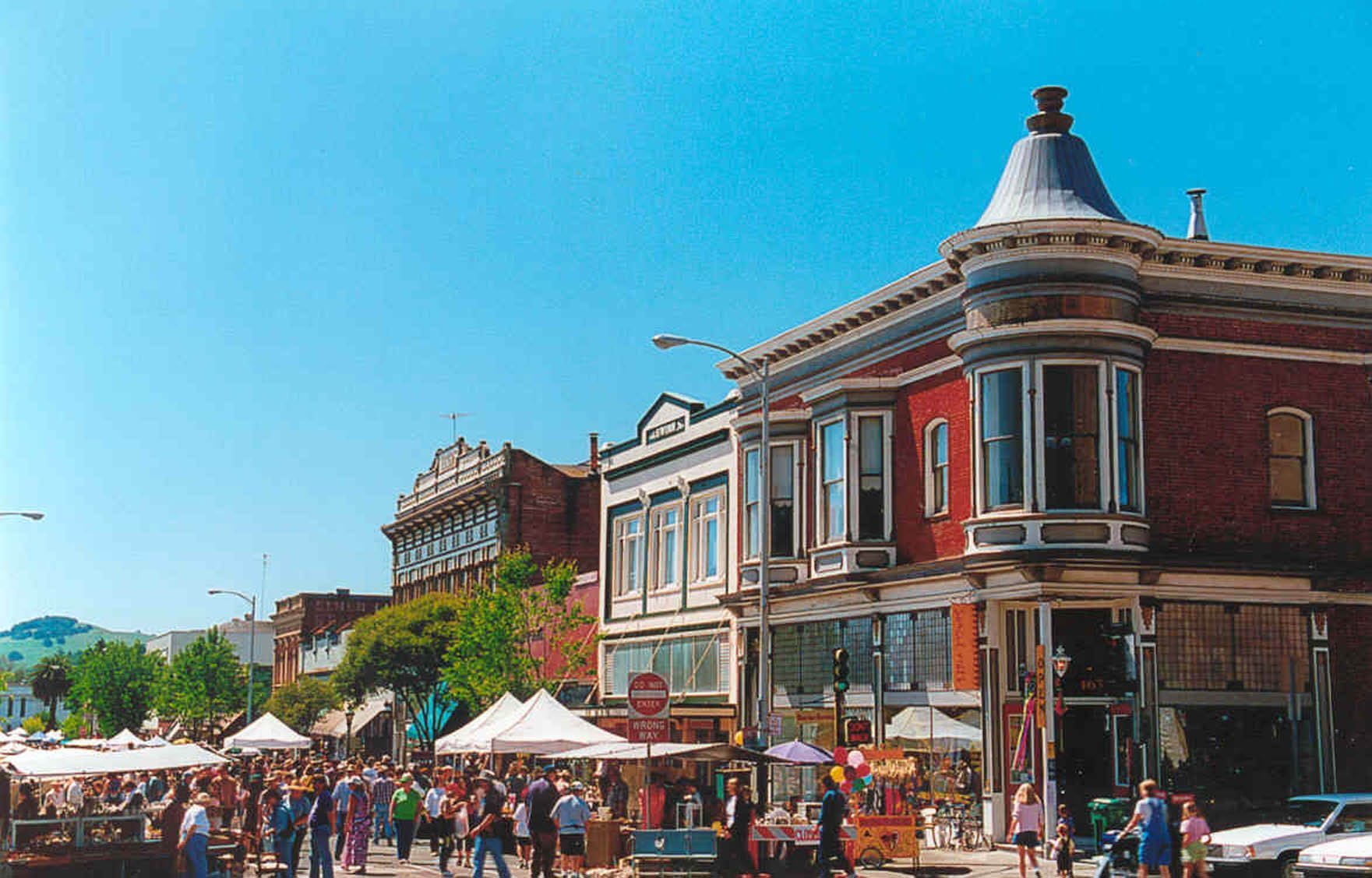 Antique and collectible lovers throughout the Bay Area are welcome to come, browse and shop the 36th Annual Petaluma Fall Antique Faire Sunday, September 25. Admission is free.
The Faire will be located on Kentucky Street, Fourth Street, in the A Street parking lot, and on Western Avenue.

"The Bay Area's Premier Antique Center," Historic Downtown Petaluma will transform into an antique marketplace. Amid the beautiful historic buildings, one-of-a-kind stores, an incredible array of restaurants and cafes, guests can find an incomparable selection of affordable antiques from over 200 dealers. The show has a nice variety of estate jewelry, linens, furniture, art, kitchenware, vintage décor, books, and all kinds of unusual collectibles to suit everyone's budget.
This show attracts over 8,000 discerning collectors as well as first-time buyers wishing to collect and invest in real antiques.

Interested in being a vendor? Fill out application below!
When: September 25, 2022 from 8-4pm
Where: Historic Downtown Petaluma
Submission Deadline: August 22, 2022


EVENT APPLICATION COMING SOONEVENT APPLICATION COMING SOON

The Petaluma Downtown Association is pleased to sponsor the Petaluma Fall Antique Faire.
The rich history of our downtown, which boasts recognition form the National Registry of Historic Downtowns, is the ideal setting for an event such as this. Antiques and history together create this uniquely Petaluma experience.
The Fall Faire will be held Sunday, September 25, 2022 from 8am - 4pm.
The Petaluma Antique Faire will be set up on Kentucky and Fourth Streets, in the A Street parking lot, and on Western Avenue.
All proceeds go to benefit the Petaluma Downtown Association.
RULES & REGULATIONS
Entry Fees — The cost per booth is $185. There is a maximum of two booths per vendor. Please write space preferences on the application.
Timelines –
- Reservation deadline is August 22. Booth spaces are sold on a "first-come first-served" basis. We try to accommodate everyone's preference. Returning vendors who apply before deadline will receive space preference priority. After deadline all vendors will be allocated as space allows. Unclaimed booths, if any, will be resold at 7:00am on event day. Subleasing is not permitted.
- Confirmation / space number notifications will be sent out by end of August. Included will be set-up instructions, a detailed map, and further information.
Booth Sizes (approx) —
· Western Ave - 10'D by 18'W
· Kentucky & Fourth Streets - 12'D by 18'W
· A Street Parking Lot - 20'D by 10'W
Setup — 5:00am to 7:30am. Entrance to the vendor's area prior to 5:00am will be dependent on the clearance from the Petaluma Police. All vehicles must be cleared from the event area by 7:00am. Vendors must remain within the boundaries of their booths - no merchandise or boxes may be placed on sidewalks or against buildings.
Breakdown — Vendor booth spaces may not be broken down until 4:00pm. Vehicles may not enter the sales area without a "loading pass" [provided by event staff once you are packed up]. No exceptions. Please do not drive the wrong way on the one-way streets. Vendors must clean up prior to leaving and place all trash in receptacles that are provided. No unwanted items may be left. Please cooperate with the event staff who are directing traffic.
Parking — Free parking is available on nearby streets and parking garages. No exhibitor specific parking is available.
Electricity — is not available at the event. No generators are allowed.
Tables & Chairs — Spaces must be furnished by exhibitors. Placing merchandise on the ground in lieu of tables or display cabinets is unacceptable.
New items are not permitted. Any vendor selling new items will be asked to remove those items from their space. If the vendor is unable to comply, they will be asked to leave the event.
Resale Permit — The California State Board of Equalization requires and enforces that all companies, organizations, and individuals making sales have a current and valid California resale permit. No one will be assigned a space at the event without providing a valid resale permit number. To obtain a seller's permit, visit:
cdtfa.ca.gov/services/#Register-Renewals or call 800-735-2922. It is your responsibility to report and forward all sales tax collected to the State. Anyone with whom you share a booth must also provide this information.
License Fees — City, County, or State license fees are the responsibility of the vendor.
Merchandise — All items sold at this event are restricted to quality antiques and collectibles. No crafts or new items. The sale of firearms, explosives, tobacco, or alcohol is absolutely forbidden. Only licensed, pre-approved food vendors will be allowed to sell food and drinks.
Insurance — No insurance of any kind is provided to festival participants. All festival participants are strongly encouraged to carry insurance.
Indemnification — The Petaluma Downtown Association, its directors, employees, volunteers, the Petaluma Downtown Antique Faire Committee and Promoter, the City of Petaluma, and the County of Sonoma assume no risk; and by the participation in this event and by signing this application, the participant expressly releases them from any and all liability for any theft, injury or damage to merchandise, or loss to any person or goods which may arise from the occupation of space by the participant.
Smoking prohibited in vendor booth, within the event, and within 20' of any business entrance.