The Business Improvement District (BID)
The BID is a volunteer-led committee promoting the economic growth and resilience of businesses through marketing and beautification while maintaining the unique and authentic character of the Business Improvement District
In November of 2000 the Petaluma City Council adopted Ordinance 2104 N.C.S, establishing the Downtown Petaluma Business Improvement District (BID). The Board of Directors, who also serve as the Petaluma Downtown Association (PDA) Board, must annually present a budget for City Council approval prior to the beginning of the fiscal year, January 1st.
Formed as a special assessment district, the BID funds services, activities and programs above and beyond services provided by the City, for the purpose of improving the common areas and strengthening businesses within the district.
In January, all licensed businesses within the defined district pay an annual assessment fee in order to equitably distribute the cost and benefits of the agreed-upon services. This is separate from the Petaluma Downtown Association Membership Fees.
The BID invoice is based and calculated on your zone location, type of business and amount of employees. To perform this calculation the City of Petaluma used from the State Employment Development Department (EDD) regarding the number of employees you reported to them. Please be aware that it is very important to check that you are correctly billed for the right amount of employees. Employees are calculated on full time hours (part time employees should be added together to get a full time equivalent). For questions regarding zoning or employee amounts please contact, CAROL MUNGLE at Mungle & Associates 707-241-0195.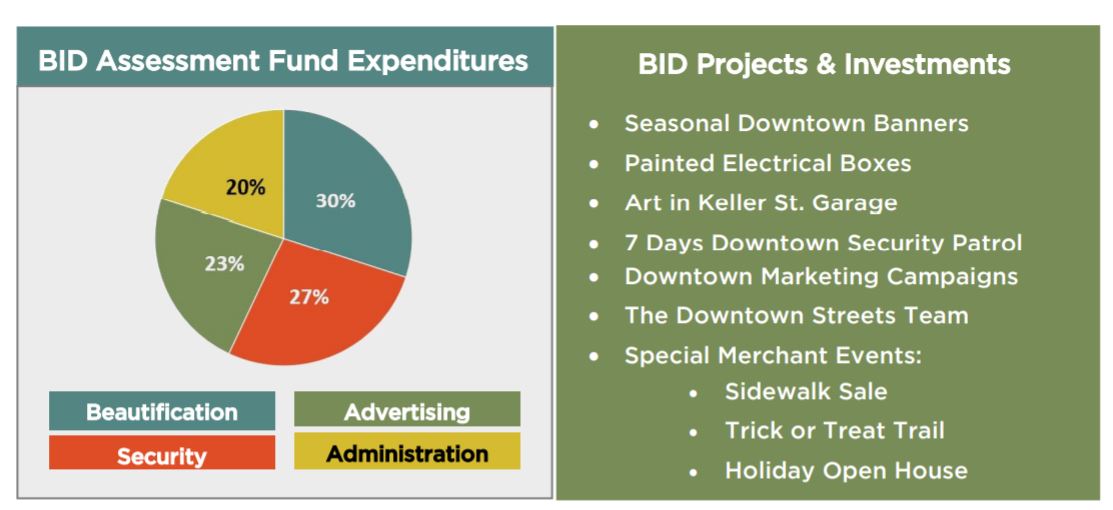 As part of the annual renewal process of the BID we are required to prepare an annual report. The annual report includes proposed work plan and detailed budget for the upcoming year. You can find a copy of the annual report from 2019 below. The Petaluma Downtown Association oversees the administration of the BID but the BID Advisory Committee prioritizes projects and budgets. See the below tab to learn more about BID meetings and how to get involved.
Business Improvement District assessments are levied on the basis of the estimated benefit to the businesses and property within the BID area. A BID may assess property according to zones of benefit, in relation to the benefit being received by businesses within each zone. The BID assessment is billed annually. See the BID map above to view area boundaries and zones. As shown below, the assessment schedule is as follows:

TYPE OF BUSINESS ZONE A ZONE B ZONE C
Restaurants and

Retailers

$150 (1-3 emp.)
$250 (4-6 emp.)
$350 (7+ emp.)
$100
$166
$232
$50
$83
$116
Antique
Collectives

$150 (1-3 dlr.)
$250 (4-6 dlr.)
$350 (7+ dlr.)

$100
$166
$232

$50
$83
$116

Service
Businesses

$100 (1-3 emp./ op.)
$200 (4-6 emp./ op.)
$300 (7+ emp./ op.)

$75
$150
$225

$50
$100
$150

Professional


Businesses

$125
$82
$41
Financial
Institutions

$500
$500
$500
Lodging

$150 (1-10 rooms)
$250 (11-25 rooms)
$350 (26+ rooms)

$150
$250
$350

$150
$250
$350

Important note: Retail, restaurant and service businesses will be charged on size which will be determined by number of employees, either full-time or the equivalent made up of multiples of part-time employees while Antique Collectives will be charged by number of business licenses active within one location.

BUSINESS TYPE DEFINITIONS
Retail, Restaurant and Antique Collectives: Businesses that buy and resell goods or comestibles. Examples are clothing stores, shoe stores, office supplies and antiques shops as well as businesses that sell prepared foods and drinks.
Service Businesses: Businesses that sell services. Examples are beauty and barbershops, repair shops, most automotive-orientated businesses, entertainment businesses such as theaters, etc.
Lodging: Includes renting rooms by the day or week to community visitors.
Professional Businesses: Includes: Architects, Engineers, Attorneys, Dentists, Doctors, Accountants, Optometrists, Realtors, Insurance Offices, Mortgage Brokers and most other businesses that require advanced and /or specialized licenses and/or advanced academic degrees.
Financial Institutions: Includes Banking, Savings, Loan and Credit Unions.
How can you get involved?
Join us at our monthly BID Advisory Committee meetings held at Hotel Petaluma, 205 Kentucky Street in the Conversation Room on the first floor at 8:45 am. Meeting are held every second Tuesday of the month and all BID members are invited to attend.